As we are still in the heat of summer days and the third biggest bike race, this time we will be racing across Spain for our recipe in Spain.
In the southern part of this country, the famous white almond soup, a kind of white alternative to the famous cold red tomato soup, is also popular. Since mercury can jump so high there, the Spaniards have created some famous cold soup that cools nicely on hot summer days. You may have heard of gazpacho, a cold tomato soup. White almond soup is also a popular cold soup.
You may be surprised or suspicious of the ingredients in this soup, but fear not. Soup is one of the most delicious soups for me personally and a real surprise for the tastes. It is completely full, creamy. Almonds play a more important role and thus are a good meal for our health. Almonds are full of vitamins and good fats. When serving, serve soup with white grapes. This may seem an unusual combination, but I advise you to trust him bravely and blindly, because he is beautiful and decisive. You can even be a vegetarian to enjoy it.
Preparing the soup is very quick and easy. It's best to be prepared to wait in the fridge for at least a few hours while you "finish" your training or watch the race.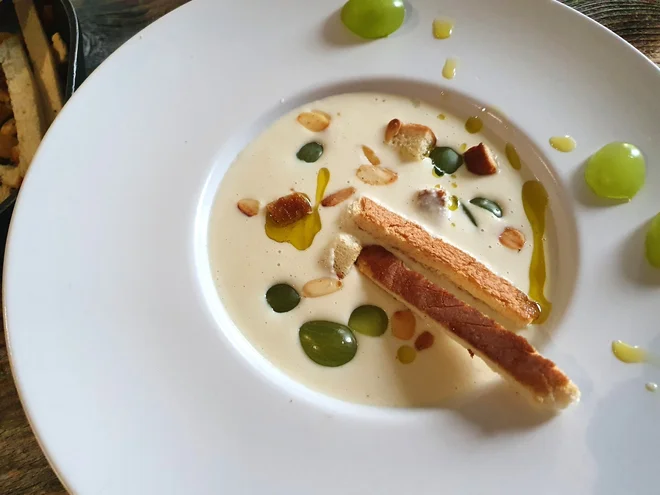 Trip recipe: White Almond Soup (ajo blanco). Photo: Tanya Drenovic
We need two people:
5 slices of dried white bread without the crust
2 garlic cloves
100 to 150 gm peeled almonds
Sol
1.5 dl of cold water
If necessary, a few ice cubes
Half an apple, peeled and sour
A few tablespoons of olive oil
A few teaspoons of wine vinegar
white grapes
How to prepare white almond soup:
Shake bread, almonds, water, garlic, salt, vinegar oil, ice cubes, apple in a blender. Mix everything well to get a smooth creamy mixture that is neither too thick nor too thin (the texture of a cream soup). Put the soup in the refrigerator for a few hours. Fry bread cubes in a pan (you can with a little butter). Serve the soup well cooled. Add white grape halves, bread cubes, and toasted almond flakes, if desired. Sprinkle it with a few more drops of olive oil.
.