Sarma is an indispensable classic at the first lunch of the New Year. This year, in the preparation of this delicious dish of cabbage and minced meat with rice, you can also try everyone who thinks that you do not have enough culinary skills. Don't worry: we bring you a secret that makes preparing sardines fun. And most of all delicious.
The old saying goes that what we do on the first day of the year will continue all year long. And if we start with a traditional dish, which, above all, symbolically brings happiness due to its ingredients, we will have nothing to fear.
Have you ever wondered why we usually serve sarma to the table on January 1st? And the reason is not only in their taste, but mainly in the two ingredients that according to ancient traditions are supposed to bring happiness: cabbage and pork.
Cabbage is supposed to symbolize wealth, and pork, which can be added to minced meat, brings progress. These two types are present in many homemade dishes around the world on the first day of the year.
Sarma is said to have originated in Turkey, and in many versions it appears almost throughout the Balkans. In some places bacon is added to the mass, in Bosnia it is prepared only from beef, and in Greece sarma is made mostly from grape leaves.

They also know their versions of sarm in Sweden, where they are called kåldolmar, or in Germany, where they are known as Kohlroulade. They are also prepared in Russia, the Czech Republic, Hungary, the Middle East and even the United States.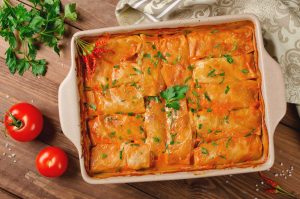 The first main advantage of delicious homemade sarma is that you prepare it in advance, as it is getting better every day. Therefore, in addition to containing all those ingredients that will bring us so much happiness in the New Year, it has another advantage – on January 1 we will be able to enjoy high-quality home cooking without spending a lot of time in the kitchen. So make the day for your family and relax after the busy month of December.
And since you don't want to spend the last day of the year in pots, we have a secret for you that will make it super easy to make magic and at the same time deliver a winning taste – just like our grandmothers used to conjure up in their dishes.
The best assistant in the preparation of household amulets – Mixed stuffed peppers and sarma fant
Without careful selection of seasonings, they will not taste as much as we remember them, so the mixture of Stuffed Pepper and Sarma Fant is the right help in preparing these dishes.
Therefore, for divine sarma, you need high-quality ingredients and A mixture of stuffed peppers and sarma fant spices.
You can cook the sarma in a saucepan, put it in a baking dish in our recipe, and bake it in the oven. The result is really amazing!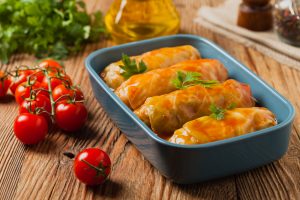 Preheat the oven to 190 degrees Celsius.
Mix the contents of the sachet with 100ml of lukewarm water and let it sit for a few minutes. Add 500g of ground beef and about 100g of rice to the prepared flan and mix well. Fill the sarma with sauerkraut or fresh cabbage leaves with the mixture, removing the toughest parts beforehand.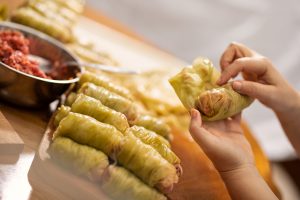 Cut the remaining cabbage into noodles and sprinkle half of it over the bottom of the pan. Put the prepared sarma on it with the tip pointing down. Put pieces of bacon between each sauce and sprinkle the other half of the cabbage slices. Pour boiling water over everything, cover with a lid and put in the oven.
Bake for about an hour and a half, checking the baking process a few times in between and shaking the pan slightly if necessary.
Sarma can be served with tomato sauce and mashed potatoes.
Tip: instead of cabbage, you can also use turnip to make sarma, which in Denmark, for example, has a symbolic meaning similar to cabbage.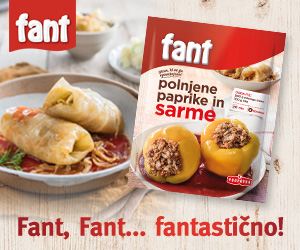 Not only for the excellent sarma, z boy mix You can significantly diversify the preparation of a variety of homemade dishes. You can also use it to stuff zucchini, eggplant, or onions.
Undoubtedly, next year it will also enrich your summer kitchen, when another cult dish will return to our tables – stuffed peppers.
philosophy Fant mixtures It's simple: to simplify the process of preparing dishes while evoking those authentic flavors we knew before.

Discover the modern way to cook with wonderful mixtures.
The advertising content client is Podravka