The smell of beef soup, so to speak, is in our genes and our consciousness, because a true traditional Slovenian Sunday brunch is not without it. I dare say it is in the genes, because the "love of soup" has been passed down to our children and grandchildren. But behold, grooms also love to eat soup. One is so excited that in addition to two bowls of soup, he easily eats a third. And grandchildren, the easiest way to please and feed them is to cook them soup with grated porridge or spoons of semolina.
As soon as the grandchildren announce their visit, they say a deep plate of soup. And the little boy himself jumps back to his chair in place at the table, takes the spoon in his hands and looks impatiently when a plate is brought to him. This is followed by the ritual of puffing into the overheated soup and constantly stirring it with a spoon to cool it as quickly as possible. Well, that honor usually goes to the nono…
Soup collects and connects
After soup, we are all happy, as soup brings us closer together, connects us and cheers us up. In my soup, many things are cooked, from good cattle meat, colored carrots, parsley root, celery and its root, shallots, onions … and as a drop on three more sprigs of fennel. I am convinced that it is the chandelier that "raises" the soup and then we too.
Lustrek enhances lust, the feeling of a very strong desire for the body, the desire for everything: food, closeness to loved ones and a sense of security.
Botanists say in Latin lustrek Levstikum officinale It is classified as a spice plant of the kobulnica family. Spices always stimulate something, once appetite, then digestion, thirdly, taste and aroma …
Well, the chandelier also stimulates lust, a feeling of a very strong desire for the body, the desire for everything: food, closeness to loved ones and a sense of security. No wonder he has such a name! Lust Reh, full of delight in German. Lustrek is known in folk medicine as an aphrodisiac herb in the holistic sense of the word.
Soraya Flanders Soup(recipe from Pr' Flandru's farm in Zakogka)

Ingredients: A large handful of chopped chandeliers leaves, a chopped medium onion, a soup base, a tablespoon of lard, salt and pepper, stale white bread cut into cubes, an egg or two and a piece of butter.

Prepare: Fry the onions a little, add the chopped fennel and fry a little, but not so much that it does not turn black. Add the soup base, add 1 tablespoon of ground beef, add salt and pepper if necessary and leave for a few more minutes. Meanwhile, mix the bread cubes well with the beaten eggs and fry in butter. Set the soup aside and serve with toasted cubes and sprinkled with fresh chamomile leaves.

On the farm of Flanders, they also prepare delicious savory štruklji and even lustrek potica.

I am convinced that chamomile is a type of herb that is very useful these days in draining the body and also in connecting people with optimism.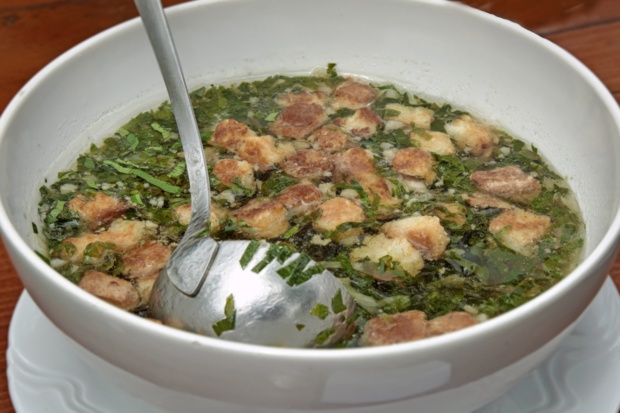 Lustrek has several names, all rooted in love. The English call it lovage, the Germans Liebstöckel, and the Russians lovage. The Scots, the French, the Flemish, etc., liken it to their names, and the Romans brought a chandelier to them all during their conquests. In some places in our country it is also called ljubčec, lustrik or levstek.
kingdom of joy
The ancestral homeland of Lustrik is the region of present-day Iran and Afghanistan, but it soon appeared in Europe, where it has been valued as an aphrodisiac since Roman times. It was believed that enjoying it creates a world of joy because it helps increase attraction between the sexes. Scientists have found that this is not directly true, but the chandelier raises the energy of the kidneys, so it stimulates the work of the urinary tract and reproductive organs, and thus enhances the sex drive. And if we know that it also helps treat heart failure and heart failure, the reputation of the herb that restores libido is not far off.
Everything that people have known over the centuries about the healing properties of chamomile is confirmed by modern medicine. Lustrek is a strong hydrophilic, as we call plants that have a diuretic effect and promote urination, thus flushing the kidneys and bladder, while not losing vital electrolytes, such as sodium.
Lustrek contains an essential oil that has a pronounced antibacterial effect against several types of Gram-positive and Gram-negative bacteria. It also contains eucalyptol, which soothes and relieves lung diseases and respiratory disorders. In traditional folk medicine, Thuraya is also used to relieve stomach problems and fever, as in young children, arthritis, urinary tract infections, kidney and bladder stones, gout, migraine headaches, and jaundice.
salt substitute
Lustrek is a highly prized aromatic herb that gives all foods, not just soups, an upscale taste. It can be a partial or complete substitute for salt, as it makes the taste of the dish more salty. A few leaves will suffice and fill a pot of vegetables, fish or meat soup with their aroma. It also belongs to stews, sauces, chips and stews, as well as all kinds of meat dishes. It is excellent with carrots, greens, potatoes, Jerusalem artichokes, parsnips, mushrooms, beans and tomatoes. The chopped leaves can be added to any green salad; Lustrek goes well with parsley, chives, juniper berries and thyme, including hot peppers, garlic, dill, laurel, and oregano.
Thanks to the essential oils, phthalates extracted from the roots, chamomile soothes and relaxes. It also eliminates wind and facilitates the process of phlegm as it helps widen blocked airways. Stimulates appetite and helps with irregular menstruation. A chandelier drenched in wine promotes menstruation overnight, so pregnant women should be careful with it. Lustrik root can be ground into a roll and used to remove liver spots and redness on the face as well as kidney stones. Lustrek prevents fatty spleen and liver. Sometimes hot, long-lasting purulent wounds are healed with hot compresses from lupus. From herbs and leaves, we can make a bath supplement that helps get rid of lower abdominal problems.
---