Fokača is a classic Italian flatbread or flatbread, similar in texture to pizza dough or chapati, but of course in its characteristics. It was eaten in Roman times, when it was called panis vacchus, which meant "bread from the hearth." It is prepared with an abundance of olive oil, which creates a crunchy crust when baked.
The structure of the dough is soft, pliable, fluffy on the inside and crunchy, crisp and salty on the outside. I like to cover it with aromatic herbs, but we can also add vegetables to it. And just such pancakes were my constant student food for "healthy fast food" while studying in Florence. I preferred to top with potatoes and rosemary as a stand-alone meal rather than pizza. Other than that, this cake can also be used to prepare many sandwiches or as an appetizer with a glass of good wine, as an accompaniment to soups, salads and more.
And what makes this bread so special? When we literally dip our fingers into the soft, smooth dough from which the bubbles swell madly, it has, at least for me, such a wonderful and pleasant healing effect that I often want to prepare it for this pleasure …

Focaccia without kneading
For a baking tray measuring 22 * ​​30 cm.
450 g flour (regular flour or special bread flour)
1.5 tsp dry yeast
2 teaspoons salt
450 ml of water
the rest
olive oil (and some butter)
Fresh herbs and vegetables to order (parsley, thyme, rosemary, onions, primroses)
salt flower
baking paper
Prepare
1. Sift the flour into a large bowl, add yeast, salt and water and mix them well with a wooden or silicone spoon (you can also use your hands) until the ingredients are well mixed and a sticky mass is formed from the dough.
2. Cover the dish with cling film and let it rise overnight, for a maximum of 12 hours at room temperature, until it rises twice (you can also rise longer, for example, from 12 to 24 hours, but in this case I recommend rising in the refrigerator ).
3. When the dough swells and bubbles form, pour oil around it. Scrape the edges of the plate with oiled hands or a bread scraper. Then we go with the palm under the dough and raise it and stretch it around it and rotate it and bring it down towards the middle. We do this in 6 or 7 strokes, being careful not to break it. This is how we form the loaf of dough (do not be afraid, because it will be very fluffy and bubbly, and it will crawl away).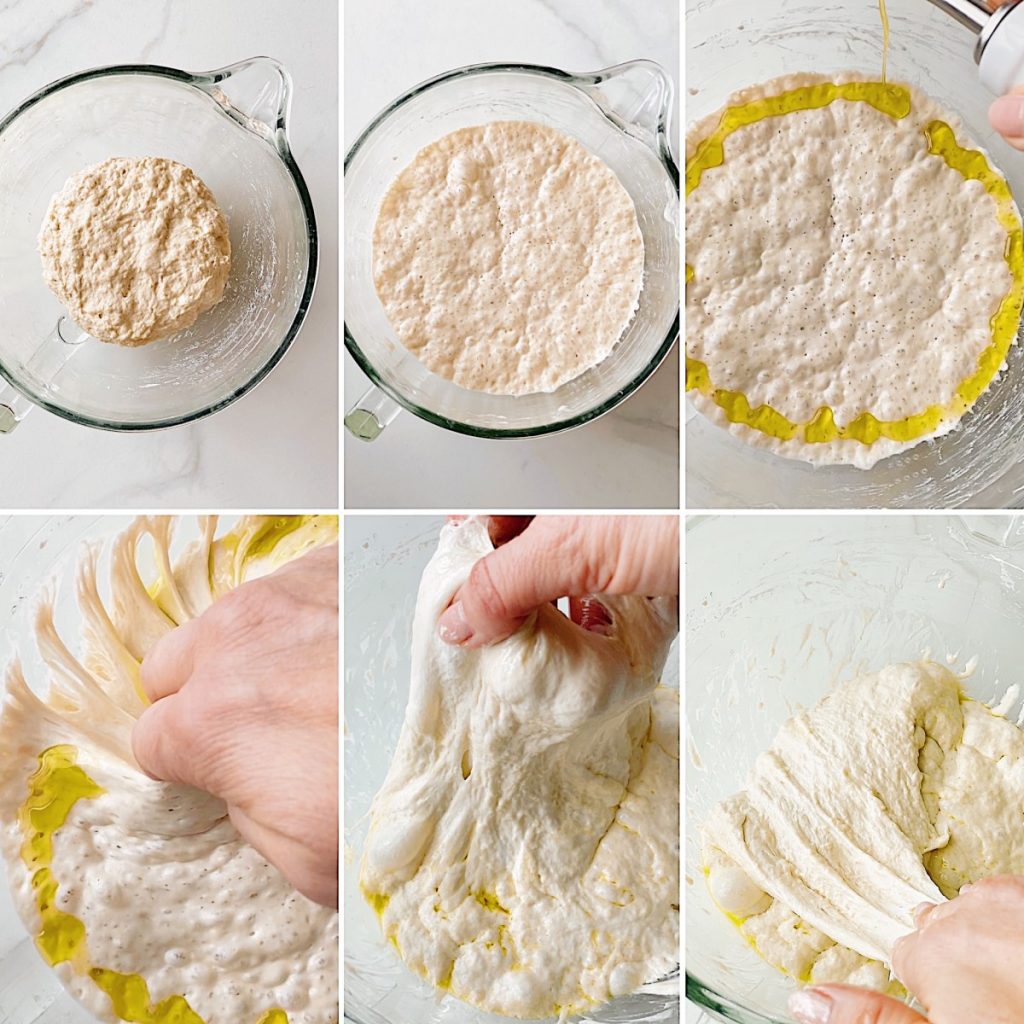 4. Cover the baking tray with baking paper (which is additionally oiled) or grease the baking tray well with oil and butter and carefully place the dough in it. When doing this, be careful not to break it. Leave the dough as it is (there is no need to stretch it, as it spreads all over the baking tray when lifted) and cover the baking tray with transparent food paper and leave to rise for another 2 to 4 hours. Dough to rise again.
5. Preheat the oven to 220 degrees.
6. Once the dough is puffed, remove the tin foil and spray it with oil, also brush your fingers well and make holes in it all over the surface, gently making them bubbles.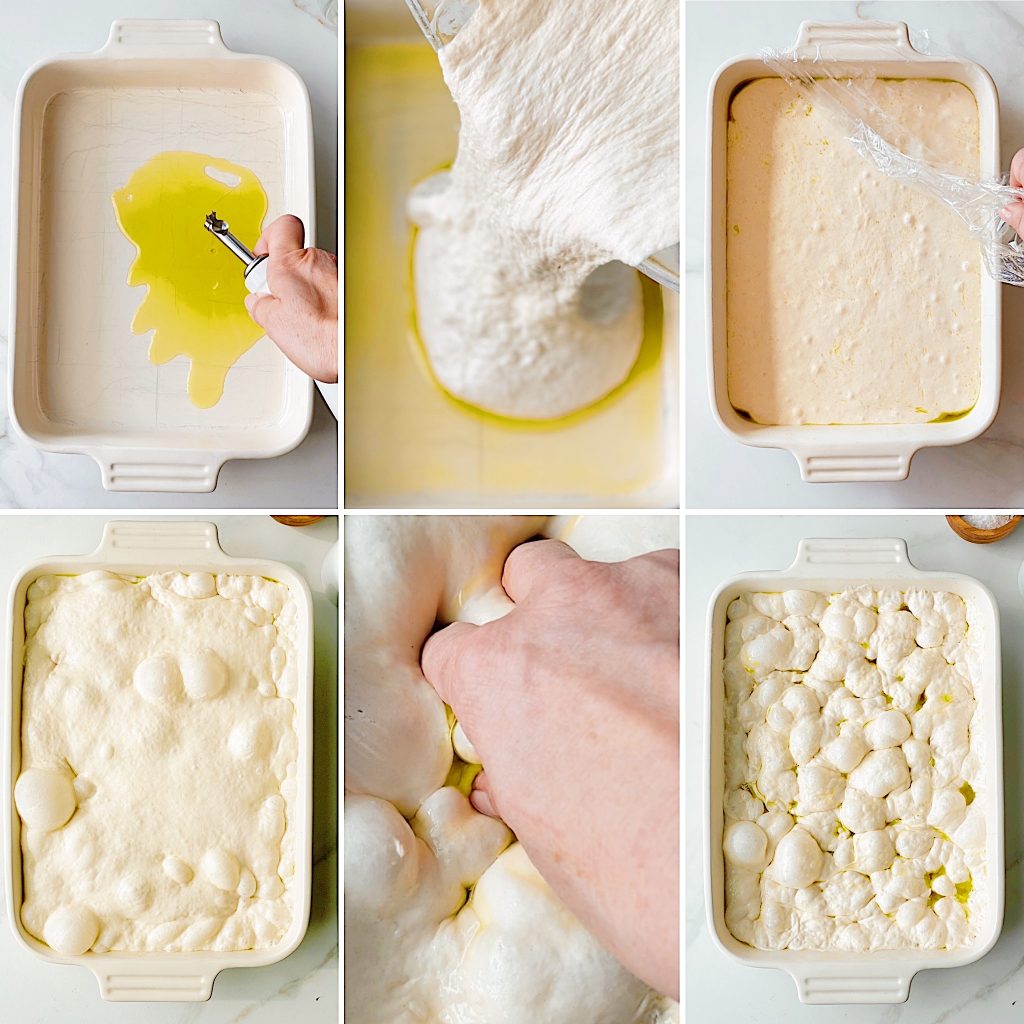 7. Then spread the dough on top of it with the desired vegetables and herbs, and then sprinkle it a little with salted flowers.
8. Bake for 25 minutes, until crust is golden.

Tips
Flour: This focaccia is made with regular flour, but flour for baking is of course recommended.
Yeast: I prefer to use dry yeast, which has a less intense taste compared to fresh yeast, and the preparation is faster.
Elevation: If you want to raise the dough for more than 12 hours, it is necessary to raise it in the refrigerator, in the refrigerator the dough can rise for up to 3 days (so it will have more flavor).
Freshness: Focaccia keeps its freshness for two days and can also be frozen.
Also Recommend: We've Obsessed With These Asparagus Rolls with Chicken and Bacon