Together with Daria Konarvich, founder and driving force of the Ljubljana Church, we've tested what the Philips Airfryer can do. You are the hot fryer. I used an XXL version of the frying pan to prepare the dishes in enough quantity for a meal for the whole family.
s Philips Airfryer He was able to prepare food with little or no oil, as the device is designed to remove and capture fat from food, a healthy way of frying. Darja chose chicken wings with ginger, French fries with Parmesan, and brownie with pecans and coarse salt for her video recipes.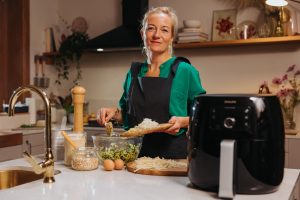 With the selection she wanted to show that the Airfyer is suitable for a wide range of different dishes and also for desserts. Dargah is passionate about the device, but what she loves most is that despite the less oil, the dishes turn out to be juicier, crunchier and very tasty. The preparation time or baking however, is shorter than in a conventional oven.
You are invited to watch three video recipes and more detailed preparation procedures.
1 kg chicken wings
4 tablespoons of flour
1 teaspoon baking powder
1 teaspoon salt
1 teaspoon garlic powder
pepper to taste
Rinse the chicken under running water and dry it well with paper kitchen towels. Mix all remaining ingredients together and wrap each chicken separately. Bake without added fat.
Baking: 15 minutes at 180 degrees + 5 minutes at 200 degrees
2 tablespoons of flower honey
2 tablespoons soy sauce
1 clove garlic
2 tablespoons grated fresh ginger
2 tablespoons water
Simmer everything over low heat for 10 minutes, pour over the hot wings and mix with the marinade.
Serve the wings with fresh cucumber marinated in sesame, hot pepper, vinegar and sesame oil.
1 medium zucchini
1 onion
1 clove garlic
2 tablespoons oatmeal
2-4 tablespoons of flour
2 tablespoons breadcrumbs
1 tablespoon sesame
2 eggs
fresh herbs
salt pepper
Grate the zucchini coarsely, add a fine salt, and let it sit for at least 10 minutes to get as much liquid out as possible. Squeeze the flasks well by hand and squeeze out the excess liquid. Grate the parmesan cheese and onions on a grater and chop the garlic cloves finely. Add all the ingredients to the drained zucchini while mixing: onions, garlic, oatmeal, flour, breadcrumbs, sesame, eggs, fresh herbs. Finally, add salt and pepper to taste. Mix everything well and form halves (if the mass does not stick together, add a tablespoon of breadcrumbs or flour) and grease them with a little olive oil. Put in the basket.
Bake: 15 minutes at 170 degrees
Serve the fries with Greek yogurt, lemon, and a bowl of seasonal salad.
160 g chocolate (minimum 58% cocoa nibs)
80 grams butter
120 grams of sugar
2 eggs
60 grams flour
1 teaspoon baking powder
1/2 teaspoon salt
60 gm whole pecans
First, melt the chocolate with butter in a water bath. Weigh and mix the dry ingredients: flour, baking powder and salt. Beat the eggs with the sugar until you have a light and fluffy mixture, about 5 minutes. Add a little of the cooled chocolate with butter to the egg mixture and finally the dry ingredients. Pour into a baking dish lined with baking paper, sprinkle with walnuts and coarsely ground salt.
Bake: 15 minutes at 180 degrees.
Subscriber to advertising content is Philips