One of the most difficult tasks for housewives is to measure the correct amounts of food that we eat for lunch. From today, this will not be a problem: the rest will be used in new dishes.
Pasta in one way or another: as a salad, side dish or main dish, it is always a real adventure of flavors. Pasta can also be great in 'recycled' recipes – when they stay with us for lunch we can use them again in other equally excellent dishes.
Check out a selection of delicious recipes that you can make with pasta piling up in the fridge. What is your favorite?
macaroni without meat
A quick lunch where the kids will also be asked to repeat.
Ingredients:
250gm cooked pasta
cup of tomato sauce
Bechamel (50 g flour, butter, nutmeg, 0.5 liters milk, salt, pepper)
3 tablespoons grated Parmesan cheese
Salt, pepper and grease the bread
Prepare the bechamel first: melt the butter in a saucepan and add the flour, mixing well so that no lumps form. Gradually add the heated milk while mixing with the paddle attachment. When the béchamel boils and becomes thick, remove the pot from the heat and salt the béchamel, pepper, and nutmeg zest.
Grease the bottom of the pan first, add a little tomato sauce and bechamel, then add the pasta and pour the rest of the sauce and bechamel well. If you like, you can make several layers of pasta and sauces, sprinkle everything well with Parmesan on the hut.
Bake for 20 minutes at 200°C.
fake pizza
Try and be surprised with a slightly different pizza.
Ingredients:
200gm cooked pasta
100 gm mozzarella
olive oil
2 tomatoes
pest rocket
20 gm parmesan cheese
6 eggs
Salt and Pepper
Add the Parmesan cheese and pepper to the pasta, then add the eggs and mix everything together evenly. Then spread the pasta evenly on a pizza tray greased with olive oil.
Then fill in the pasta pizza to taste – add the mozzarella slices and tomatoes. But you can also add other ingredients, empty the fridge, and take a break!
Bake the pizza for ten minutes at 220°C. You can complement the warm pizza with arugula.
Crazy pasta omelette
Fabulous dinner with a bowl of lettuce.
Ingredients:
300gm cooked pasta
2 eggs
100gm soft cheese
100g dry salami
grated cheese
Parsley, oil, salt and pepper
Beat eggs in a bowl, add slices of soft cheese, salami, shredded cheese, a handful of chopped parsley, and season with salt and pepper. Mix everything together well to get an even egg mixture.
Add a few drops of olive oil to the hot skillet and then the pasta, brushing it well over the entire surface. Let the pasta bake for a few minutes and then pour the egg mixture evenly over it. Bake the omelette over low heat for about 15 minutes, covered with a lid.
Using the lid, flip the omelette and bake, this time without the lid, for another five minutes.
Grenadier's career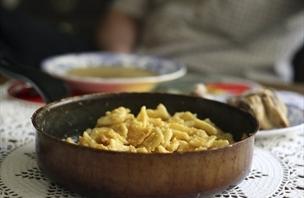 A dish that our grandmothers loved, but it is still welcome in modern menus.
Ingredients:
30 dag pasta (widespread pasta is preferred, pens are also suitable)
50 daug fries
10 days of bacon
Onion, salt, pepper and fat
Cook the potatoes with their peels and then fry them cut into slices on the onions and bacon just like French fries. Towards the end, add the cooked pasta to the potatoes and mix everything well, add salt and pepper. The vegan version of the Grenadier's March is bacon-free, thus slightly reducing your fat intake.
Grenadier Marsh can be served as a side dish or as a standalone dish.
Lidl Slovenija is a supporter of the Let's Create a Better World section.
.